Published: 2018/11/06
An exploration of Lyon's vintage shops
When I moved to Lyon at the end of September, I was excited to explore another culture, another gastronomy, and naturally, as a clothes addict, another world of fashion. Vintage clothes are 'in'- and not just for the fashion savvy and risk-takers- it's slowly but surely taking over the wardrobes of many women.
Before I can discuss my vintage discoveries in Lyon, I must make a confession: I decided to explore Lyon's vintage shops due to my ever-increasing bad blood with British vintage shops. I am simply fed up of them: overpriced, often not even truly vintage, and frankly just not that exciting.
I hoped that an exploration of Lyon's vintage shops would allow my former love of vintage clothing to be reignited.
I must say, I was not disappointed.
Frip'Attitude: a bargain-hunter's dream in Lyon 7
My first stop was Frip'Attitude in Lyon 7, nestled in the residential area of Saint Louis (which is worth a visit on its own due to its great market, patisseries and beautiful church), half way between Saxe-Gambetta and Garibaldi metro stations.
When I first got to the shop, I admit that I had mixed emotions- it had the vibe of a charity shop, with racks of clothing pushed together, making it hard to rummage through- yet I was also greeted by the familiar and comforting smell of vintage. When I entered the shop the first thing I saw above one railing was 'Tops from 4.5€' (in French, of course), and my senses tingled, as a natural born bargain-hunter.
Overall, Frip'Attitude was exactly what a vintage shop should be, in my opinion- messy but organised, and CHEAP. You do need to be prepared to spend a good amount of time in the shop to search through the rails in order to find your treasure, but it's well worth the effort: Levis jeans for 8€, brands such as Fiorucci and Hilfiger (a men's Hilfiger t shirt cost just 15€).
Also maintaining traditional vintage culture, the shop does not isolate its sales to women's clothing- there's plenty of men's clothing, and even kid's clothing. Nor does it isolate itself to skinny women, as it has a couple of rails of plus-sized vintage clothing- a great reminder that not all women 30-50 years ago were stick-thin.
Frankly, I think that Frip'Attitude perfectly embodied what I love most about vintage fashion: an experience that Britain can only parallel with visiting vintage markets, to my knowledge at least.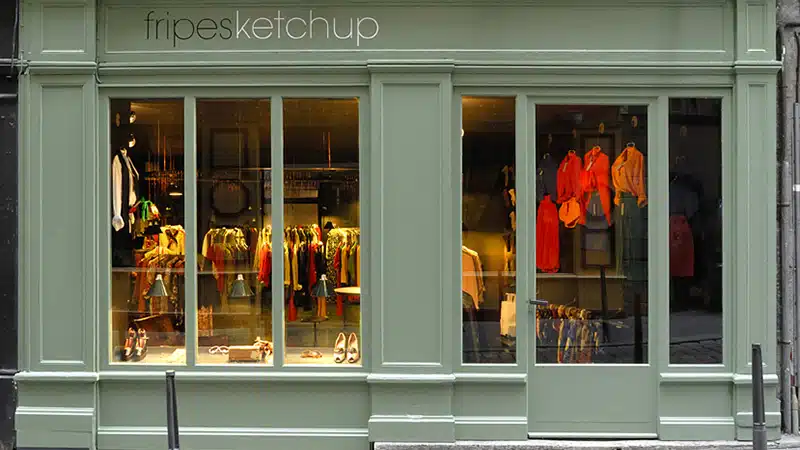 FripesKetchup: perfect for the vintage clothing virgin
Feeling very pleased with myself after buying a 5€ camel-coloured cord jacket from Frip'Attitude, I decided to head over to the Hôtel de Ville region, which is well known amongst Lyon's locals for its vintage shops.
The shops I went to here were closer to what I'm used to in Britain, at least in terms of prices. This was particularly the case with FripesKetchup which had a classic indie vibe, as clothing was hanging off strings from the ceiling (indie-points given for this alone) and was well organised and colour-coordinated. What I will say in its favour is that this is the type of shop I can see even the vintage clothing virgin appreciating. It had much more an appearance of your typical clothes shop, and all the clothing even had FripesKetchup labels on it.
The prices weren't extortionate, but neither were they cheap- 35€ for a pair of trousers may be fair enough for many women, but it's not for me- a 20 year old student who likes her vintage to have vintage prices. Still, to drive the point home, to give FripesKetchup their due, I could see even my mother going into the shop, a complete vintage virgin, and finding clothes she likes without being overwhelmed by piles of clothes to wade through.
Leonard: branded men's clothing with small price tags
Next stop: Leonard, a more male-orientated shop. Leonard was the most pricey shop of those I visited, but when you see the brands sold in the shop, you can understand why.
There was lots of Adidas on sale, a t shirt costing around 30€, and they even had Armani and Prada shirts for 30€ and 60€, respectively. I did some market research, and a Prada shirt on mrporter.com would set you back 370€ (for the Slim-Fit Stretch Cotton-Blend Poplin Shirt), so relatively the saving is massive.
I also have to give Leonard its due credit, for too often it's assumed that vintage clothing is for women, but Leonard shows that it can be just as good for men.
Carrie Bradshop: a great shop name, but high prices inside
My final destination in my vintage tour of Lyon was Carrie Bradshop. Its name is instantly alluring and humorous for British shoppers, and this excitement was only enhanced for me by the presence of a small chihuahua, who I just couldn't resist stroking…
Okay, back to the clothing: the shop was much smaller than some of the others I visited, and again I found it pricey. Luckily, there was a 10€ rail, but not so happily, I had the feeling it was mainly pieces the shop hadn't been able to sell for a while.
Which shop for you?
Overall, I'd say that Lyon's vintage scene has something for everyone: for those seeking traditional and cheap vintage wares, I'd opt for Frip'Attitude, whilst for vintage virgins seeking to dip their toe into the world of vintage clothing, head over to Lyon 1.
A special shoutout to students who don't have much disposable cash after the necessities- you know, food, alcohol, outings, etc- don't automatically head to H&M and Primark when you're looking for cheap-but-stylish wares, consider heading over to Frip'Attitude (279 Rue de Créqui – 69007).
Frip'Attitude – 279 Rue de Créqui, 69007 Lyon
FripesKetchup – 25 Rue Sergent Blandan, 69001 Lyon
Leonard – 19 Rue Hippolyte Flandrin, 69001 Lyon
Carrie Bradshop – 17 Rue Romarin, 69001 Lyon