Published: 2016/11/05
Find out how to plan your Visit to Lyon wisely and on a budget
I love travelling and discovering new places, I like short visits and proper long holidays. The most I love taking a car and doing a route trip on where I feel free and when I can adjust to my likes and preferences as I am on the move. I also like the idea of getting lost and discovering places I haven't known about. I like travelling by car as I can fit all my luggage and I love listening to the radio and stopping for picnic lunches! But I also travel by train and planes very often as these are the cheapest and most convinient of travelling nowadays and thanks to the big competition their prices are more and more competitive so cheaper for us…and at the end of the day I am a savvy shopper!
Anyway whatever your preferences are, no matter on how much you like travelling, Lyon is definitely a place that should be visited! That is why I would love to encourage you and help you out with getting here easier, cheaper and faster!
So what you need to consider before coming to Lyon? Lets make a List of Things which you can use when planning a trip.
Find the most suitable transport you are going to come with
Depending on the budget and where you are, choose between car, coach, plane and train. All of them are easily accessible here in Lyon and all of them will have some deals depending on the timing, season and on how much in advance you are booking. If you choose to come by plane check out what the low cost airlines are offering you. At this moment the destination choice is limited so consider other then Lyon-Saint Exupéry (LYS) airports. Have a look at Grenoble and Saint Etienne nearby airports for better offers. If you choose car, make sure it is proffitable for you. Use the site to calculate the cost of your journey, its called ViaMichelin. If you see, the journey is too expensive, go for the Blablacar option for a new type of the adventure and cheaper! The train network in Lyon is well developed so there are plenty of destination available, check out SNCF website here for the latest offers and try those 10 Euro tickets via Ouigo option to travel in France. There is also the new Eurostar train launched successfully this year, just keep an eye on them to see how the price is going to drop soon…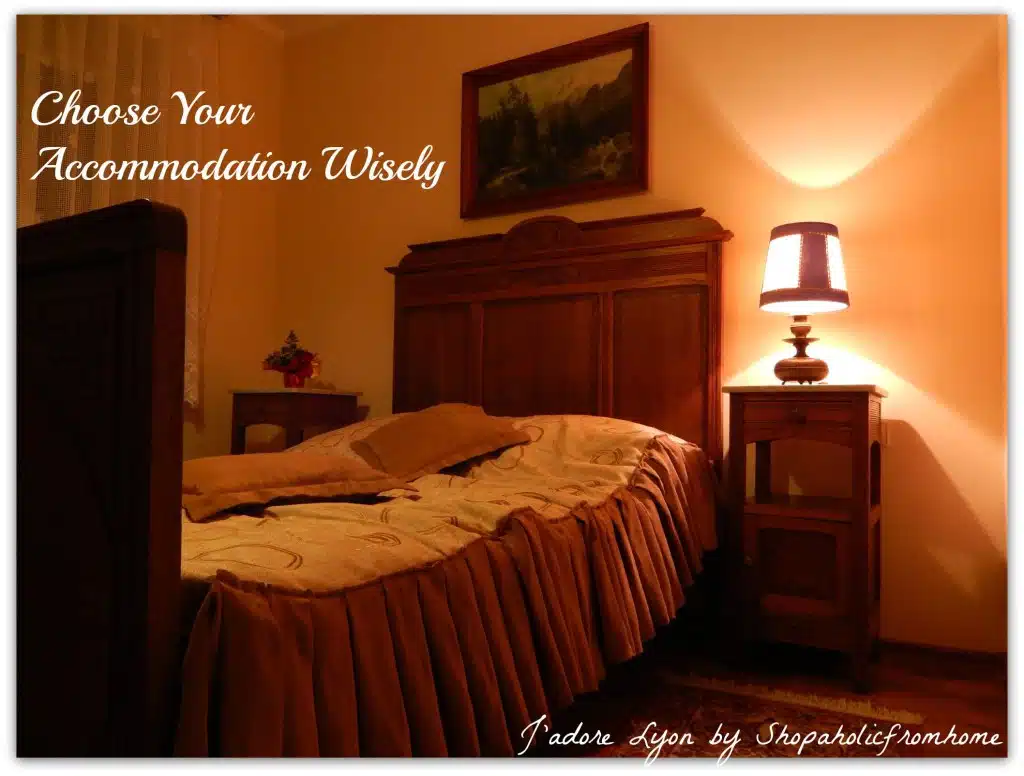 Search for the accommodation.

Decide on the dates and budget and then consider the hotel or other alternative accommodation in Lyon. I started to like
Airbnb very much as what it offers is the apartments and so the access to the kitchen. What it means is that I am free to cook if I want to save a bit on breakfasts and dinners. Not each night needs to be spent in the restaurant. Not to mention the fact that the airbnb is much cheaper than the hotel but it is just up to you on what service you want to get and how much money you want to spend. And finally, for the most comprehensive hotel and accommodation search use booking.com in Lyon. You cannot go wrong with it.
Check the weather & pack properly.

Make sure you are not over packing. It is always better to bring less things so you will have a space to bring all those things you could not resist here in Lyon. For example… the wine… the saucisson… the Lyonnais chocolates from Voisins… just to name few! Cheese is amazing but difficult to transport… it melts too quickly and smells a lot…
Decide on the budget

for your activities

and search

for the things you want to do

! Read few city guides and especially reviews of people who visited (for example…me!)



Compile a list of things you want to do and see in Lyon

. Firstly check what

the city can offer you for FREE

and then check the main sites and monuments which cannot be missed.



Check the discount and offers

and plan ahead your budget. Get the vouchers necessary for meal deals or museum fares. You can use the popular

Reducavenue

voucher code and deal website or

group buying website

for Lyon.



Check for events and FREE events happening in Lyon

when you are coming or check the important festivals of Lyon and come over to take part in them. There are the top 2 websites for this:

Lyon events guide

and monweekendalyon.com

.



Be aware of the fact that Lyonnais prefer and will be speaking with you in French so make a list of useful phrases, small phrase book and Google Translate App at least to help you out communicating in the city. But if you struggle, just search for some young ones as they learn English at school and can understand & help you out!

Prepare a list of restaurants

, lunch places you want to go to. It is better if you

search for this info beforehand

as you can find the offers and avoid places which are serving rubbish food (there are actually not that many here in Lyon; it's not acceptable in the Capital of the Gastronomy!)



Check out your mobile deal on using your number and data abroad otherwise consider buying simple number with the top up so you are reachable by others.

Make sure you have valid travel insurance,

otherwise purchase one and I think the most comprehensive offer the International

BUPA

has. Have a look, choose the suitable package, buy and pack it with yourself.
So, did I forget about something?
Oh yes…take a camera and the additional battery just in case! Otherwise you will regret as Lyon is an amazing place to take many good photos so don't miss out on the opportunity!
Well, I guess now you cannot complain you are too busy and it costs too much to come over. But if you need more encouragement, just read my 25 reasons on why you should visit Lyon! After this I just say…See you soon in Lyon! And give me a shout if you need some more tips ???? J'adore Lyon and you will soon as well…