Confluences Mall – shopping à la cool
Opened in 2012 and located in the freshly-resurrected Confluences area of Lyon, the futuristic 3-floor Confluence mall is proud of its "four star" shopping experience, where shoppers can walk its wooden planks like Buddhas with a bank account.
You can find the Confluence mall at the edge of the presqu'île between the Rhône and Saône rivers, on cours Charlemagne. Opposite the headquarters of the Auvergne-Rhône-Alps regional offices, a stone's throw from the ice rink, the museum and Perrache train station, this delightful shopping centre is an unavoidable magnet in Lyon's revamped docks.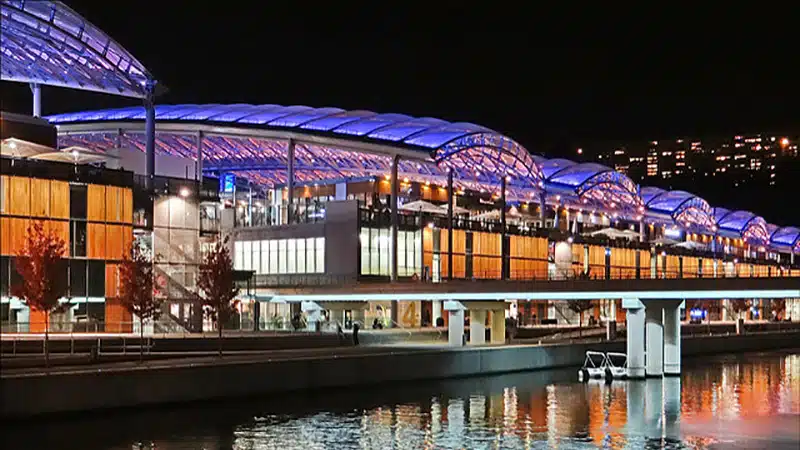 Come spring, the district literally buzzes. Boats moor in the harbour opposite, skateboarders slide down metal, and people do their strolling along the banks of the Saône, nipping into the Confluence mall for a double latte at Starbucks.
It's globalisation with a French take. Shopping à la cool.
Where Bladerunner meets Pirates of the Caribbean
Confluences Mall is an ambitious endeavour, toying with the outside-inside experience.
White rooves jut out, rise above you or plain disappear, water trickles from the walls. En route to the cinema on the second floor, a train track slices through the whole place, making you feel like an extra in Bladerunner, before the film has even begun.
Architect Jean-Paul Viguier had nautical thoughts when he built the Confluence mall.
You might have to stretch your imagination, but the floors can feel a little like the decks of a ship. When you look up, white sails face the sky, just above the lines of white pipes. It's light and airy, protected from the elements, but check out the roof acoustics when it rains. They're wild.
Some would say Confluence resembles air-conditioned Dubai, but many others, including the locals, have embraced it, because it has space, and lots of it.
It's also at the core of Lyon's modern centre, and with its chic shops, cinema, climbing wall and gym, not to mention its brand spanking new Novotel, eateries upon eateries and gorgeous 2nd floor views, it could well be a four star experience.
Shop till you drop. Then eat.
The Confluences shopping experience is sweet. All the brands are here, 100 of them, with a few others chucked in for good measure. The classy Japanese Muji is neighbour to Mango, Lacoste, Hollister, Izac, G-star, Etam, Foot Locker and New Yorker, while Pull and Bear shakes hands with the likes of Sud Express, Levi's, C & A, Zara, Cop Copine, Desigual, Guess, Tom Tailor, Adidas, 5th Avenue and Monoprix. There's an enormous toy shop called Jouet Club which wraps presents for you, a huge Carrefour, an Apple Store for all the cool people and a Decitre bookshop to flick through comics and buy post-it notes.
As for food, boy you have choice.
Sushi, noodles, freshly squeezed juices, big fat steaks, burgers, tacos, crêpes, posher dishes, you name it – fifteen establishments stand in line depending on your hunger-o-metre and taste-buds.
They're open 7 days a week, for lunch and evening meals, and the ones with views on the harbour are wowers early evening. Just watch out if you go to a late-night screening at the cinema though, the only eatery open will be Burger King. Oh come on, who says a Whopper isn't good for you now and again?
The biggest brioche au praline in the world
After the largest saucisson and the largest galette, Lyon recently had a stab at the record for largest praline brioche to mark the second edition to the international taste biannual.
The result? A 35 metre brioche, gooey pink and moist, on display in the Confluence mall in January 2017, nibbled at by passers-by and baked with love by a winning quartet of famous gourmands: Jean-Paul Pignol, Philippe Bernachon, Sébastien Bouillet and Christophe Marguin. That's 360 kg of dough and 75 kg of pralines, if you're asking.
Tip 1: Check out the toilets on the second floor. Really. It's like stepping into a Tintin adventure.
Tip 2: Sit down on squidgy sofas and pod-like armchairs to read or recharge your phone. There's free wifi, soothing music – all you need is a foot massage to go with it.
Tip 3: If you've come by car, there's 3 hours of free parking with a loyalty card or if you spend over 20 euros in Confluence. Don't forget to beep your parking ticket in the shop you buy stuff from.
Tip 4: Come to Confluence by Vaporette. It's a lot of fun, you get to travel down the beautiful Saône, and at 2 euros, it's well worth it.