Lyon Part Dieu shopping centre – the God of consumerism
The Part Dieu shopping centre is right at the heart of Lyon. Easy to get to, a pleasure to wander around, it is a place where you can buy absolutely anything. Just remember your credit card.
The 70s Part Dieu commercial centre is located in the Part Dieu district in Lyon, to the east of the Rhône river. This district encompasses La Part Dieu train station, the Credit Lyonnais Tower, the Oxygen and Incity Towers and Lyon's much-loved library.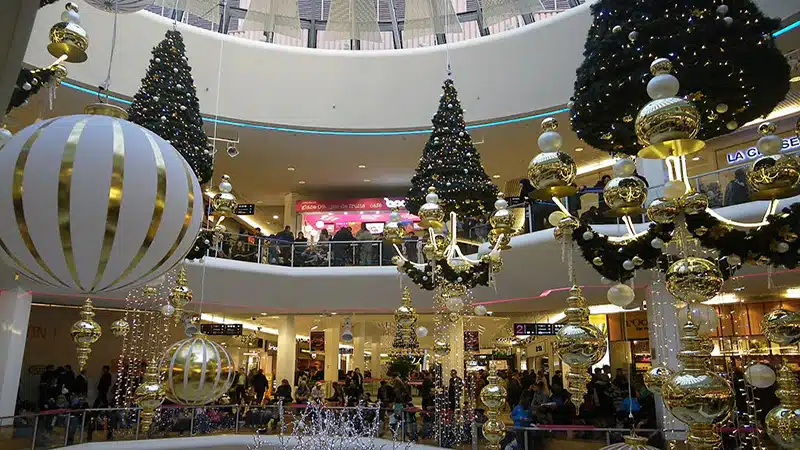 La Part Dieu shopping centre is one of the most gigantic shopping centres in Europe, tucked inside the economic and bustling hub of Lyon's second city centre.
In 2013, it was the most visited commercial centre in France with 34 million shoppers and a surface area of 127 300 m². To top it all, this shopping centre in one of the largest in France, along with Les Quatre Temps in La Défense in Paris or Vélizy 2.
Built on the site of a former fire station, La Part Dieu shopping centre opened in 1975 and was instantly connected via the Metro B line. It has five floors, with a plethora of shops, restaurants and even a multiplex cinema.
The whole centre is run by Unibail-Rodamco and is the only one in France to have earned the "Hospitality-Quality-Service" label in 2014. In 2005, sales figures were 670 million euros.
So if the day is dreary, or your credit card has been thoughtlessly neglected, La Part Dieu shopping centre is sure to shelter your rainy head, entertain your mind, fill your belly and do justice to your bank account.
'Unexpected shopping'
Whereas most shopping centres in France or elsewhere in Europe are not centrally located due to lack of space, the Part Dieu shopping centre is right in the middle of Lyon's 3rd district, one of the most populated districts of the city. Not only is it easy to get to, the experience is accessible and even enjoyable. Everything is so close that you could shop, eat, then hop along to see a performance at the Auditorium next door.
La Part-Dieu shopping centre has more than 260 shops, among which well-known brands can be found such as Zara, H&M, Monoprix, Fnac, Galeries Lafayette, Carrefour, McDonald's, Burger King, C&A, Apple Store, Primark, Lush, a Lego Store (opened in July 2015), Pull and Bear, Olly Gan, Levi, Lacoste, Hugo Boss, Levi's, Pimkie, Superdry, and The North Face.
As for restaurants, it boasts many – KFC, Starbucks, Pizza del Arte, Subway, Woko, Hippopotamus, Kusmi Tea all vie for your attention around the white deco and trickling fountains.
Makeover in the pipeline
A 300 million euro project is soon expected to transform Part Dieu shopping centre.
It is planned over four years and will be carried out by Dutch architect Winy Maas, who wants to create a "total metamorphosis" of the "blockhaus" located in the heart of the agglomeration, with the green light from Lyon's mayor, Gérard Collomb. An ambitious project, which is going to restore glory to an attractive but slightly worn landmark in Lyon.
Not only will there be some face-lifting, but it will also increase the number of shops inside, opening itself up even more to the city.
Tip 1
Check out their website before going. There are plenty of special offers.
Tip 2
Munch away at a cream cheese and cornichon Hypolite or a salmon Leontine at the recently opened Bagelstein.