What is a Bouchon? Lyon's traditional restaurants
Lyon's traditional restaurants, known as "Bouchons", are famous for their hearty, homemade regional dishes based on fresh ingredients, and for their charming, friendly atmosphere.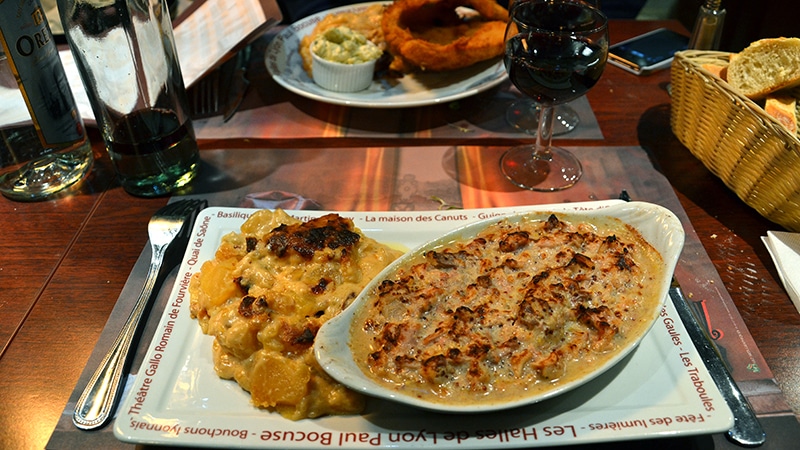 As the world's gastronomic capital and home to famous chef Paul Bocuse, Lyon has a lot to offer on the food front. For those who want a real taste of Lyonnaise cuisine, the best place to find it is in a Bouchon, a unique type of restaurant that serves the city's well-known, delicious local specialties.
These convivial restaurants focus on simple, rich dishes made from quality ingredients, all washed down with wine from the region. Dining at a traditional Bouchon is an inviting experience, with its down-to-earth family atmosphere, wooden tables placed closely together, pot Lyonnais (wine carafes), copper pans, red and white checked tablecloths, and hearty fare. The owner is usually somewhere nearby to both serve or chat with everyone, and to make sure diners are enjoying their meal.
The Bouchon Tradition
According to Les Bouchons Lyonnais, an association created in 2012 to safeguard and sustain Lyon's culinary status, the Bouchon tradition has been around since the 16th or 17th century. It first started in Croix-Rousse, which is known as the Canut (silk worker) district, thanks to silk workers who were in search of a warm, home-cooked meal in a friendly setting after finishing work in the early morning.
The wonderful food served in Bouchons is made without fuss and stems from a style handed down by Les Mères Lyonnaises, a group of female chefs who opened their own restaurants from the mid-18th century onward, helping build Lyon's gastronomic reputation. One 19th century chef, Eugénie Brazier, known as La Mère Brazier and France's first woman to get three Michelin stars, stands out in particular for her incredible culinary talents.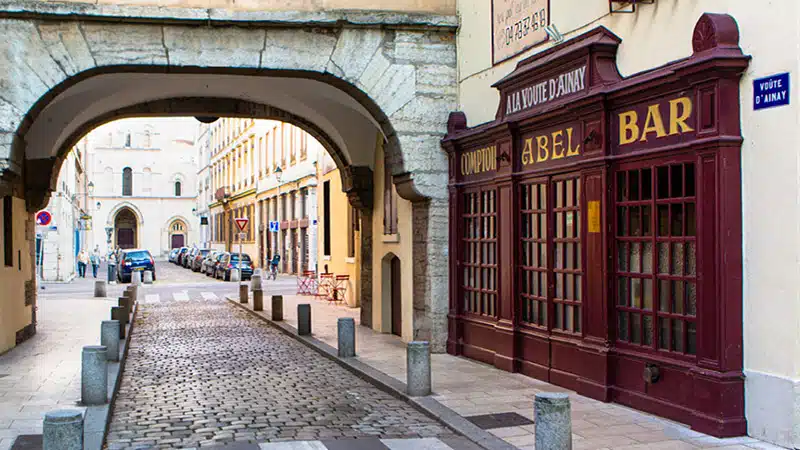 Spotting An Authentic Bouchon in Lyon
Les Bouchons Lyonnais association awards a special certification to restaurants that respect the principles of the Bouchon tradition, according to a list of strict criteria.
In Lyon, many restaurants call themselves Bouchons, which is not a registered trademark, and although these restaurants can be favorites, certification was introduced to offer a form of official support to Bouchons, regarding the quality and transparency they offer diners.
Finding The Best Bouchons In Lyon
With or without a formal stamp of authentication, there is a wide range of choice of excellent Bouchons in Lyon. Many can be found in Vieux Lyon (old Lyon), including Le Vieux Lyon and the famous Daniel et Denise, owned by chef and winner of the Meilleur Ouvrier de France award Joseph Viola. Another branch of the restaurant can also be found near Cours Layfette.
Towards the presqu'île, Le Poêlon D'Or, Café Comptoir Abel, La Voute (Chez Léa), and Café des Fédérations are popular choices, and on rue Sergent Blandan, the Bouchon des Filles offers vegetarian-friendly options.
A quick search on websites like Lyonresto, The Fork and the Bouchon association will show reviews, menus, prices and online-reservation possibilities.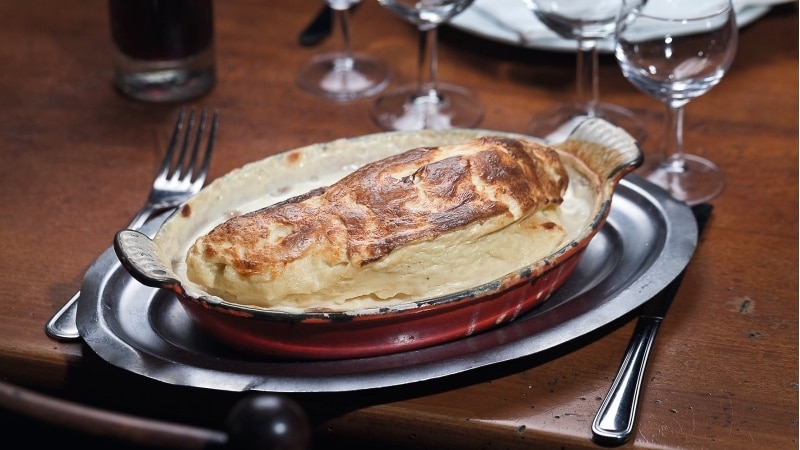 Don't Miss These Top Local Specialties
Now that you know how to find some of the best Bouchons Lyonnais, what dishes should you order? Prices vary, but usually you can enjoy a fixed-price menu with a starter, main, cheese course and dessert options.
To begin your meal, enjoy a light aperitif, with a glass of kir (fruit liqueur mixed with wine) and a few grattons (salty pork scrapings) or thin slices of rosette (a delicious dry pork sausage).
Instead of French classics like foie gras, try something uniquely Lyonnais as a starter, like a salade Lyonnaise (salad with croutons, bacon and a poached egg), or a saveloy (cooked sausage, often with pistachios).
Moving on to mains, while you can find delicious poultry and beef on the menu, most dishes found in a Bouchon are heavily pork-focused. Offal is a star, especially andouillette (a sausage made with pork's intestines, pepper, wine and onions), tête de veau (veal's head), and tablier de sapeur (fried, breaded tripe), and rognons (kidneys) – head, snout, kidney, liver: not a drop goes to waste! If you want something more tame, try the delicious quenelle (a dumpling-style dish made with fish or meat).
Cheese is also not to be missed, especially the creamy Saint-Félicien and Saint-Marcellin (perfected by Mère Richard, also known as Renée Richard) as well as Cervelle de Canut ("brain of the silk worker" in French – a fresh cheese made with olive oil, garlic, herbs, vinegar, shallots, salt and pepper).
For dessert, tarte praline (praline pie) is a Lyon signature, but also delectable are the bugnes (small donuts or beignets), baba au rhum (rum baba cake), tarte tatin (apple pie) and many other sweet choices.
To complement your Bouchon meal, remember to fill your glass with great regional wine from Beaujolais, Coteaux du Lyonnais or Côte du Rhône – Bon Appétit!
Lyon, a UNESCO World Heritage site, is easily accessible by car, train and the Saint Exupéry international airport.
Find a list of top-rated authentic Bouchons for your next meal in Lyon by visiting this website.