Lyon largest music venue : la Halle Tony Garnier
Live music concert hall in Lyon featuring the best international contemporary music.
La Halle Tony Garnier is the place to see famous names in pop and rock music. It's a large open hall with tiered seating at the sides and rear holding a maximum of 17,000 people.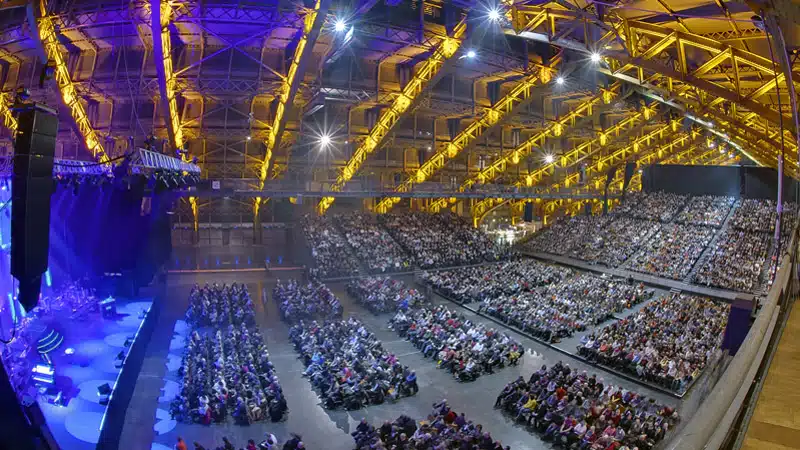 History of a major concert venue
The venue was built in 1905 and destined to be a cattle market and slaughterhouse under the architectural guide of Tony Garner who was appointed by Edouard Herriot the then mayor of Lyon. Work was interrupted in 1914 for an international exhibition of Lyon, titled "The Modern City" and again in 1914 when it was used by the army during World War 1 as a weapons factory and munitions depot. The slaughterhouse finally opened in 1928 and ran until 1967 when growth of the city of Lyon dictated they be moved to nearby Corbas. In 1975 the building was declared a historic monument and in 1987 after sitting empty for 12 years, rehabilitation and restoration of the property began under the responsibility of the architects Reichen & Robert (Paris) and HTVS (Lyon) and assisted by ALGOE (Lyon). In January 1988 La Halle opened its doors to the public as a major concert venue.
A pop music venue
La Halle Tony Garnier is France's 3rd largest concert venue after the Paris Omnisports de Paris-Bercy and the Park & Suites Arena in Montpellier. It has seen hundreds of concerts by  international stars such as Bob Dylan, U2, Britney Spears and Paul MacCartney and hosted numerous productions and shows such as Riverdance, The Sun King and Disney on Ice. The venue also hosts various trade shows throughout the year and is run by general director Thierry Teodori.
How to get to la Halle Tony Garnier
Location and Access
La Halle Tony Garnier can be found on the south side of Lyon in the Gerland neighbourhood. It's across from the Confluence Museum on the left bank of the Rhone and is easily reached by public transport using tram T1 from Perrache or Debourg and stop at Halle Tony Garnier or metro line B from Pard Dieu and stop at Debourg then take a short 10 minute walk. You can also take buses C22 and 60 from Perrache or buses C7 and S3 from Jean Mace. Coming by car take the Gerland exit from the A6 and there is free parking located on Avenue Jean Jaurès near the stadium of Gerland.
If you want to see the big names in music then La Halle Tony Garnier is the place. It can have a great atmosphere but the sound quality is sometimes a little poor especially if you are far away from the stage.
Practical information:
La Halle Tony Garnier is accessible by wheelchair and there are parking spaces inside the venue gates reserved for this. There are several bar areas serving drinks, snacks and sandwiches and cloakroom services. All photography is prohibited and please don't bring large bags. For more information on security requirements and other matters
Enregistrer